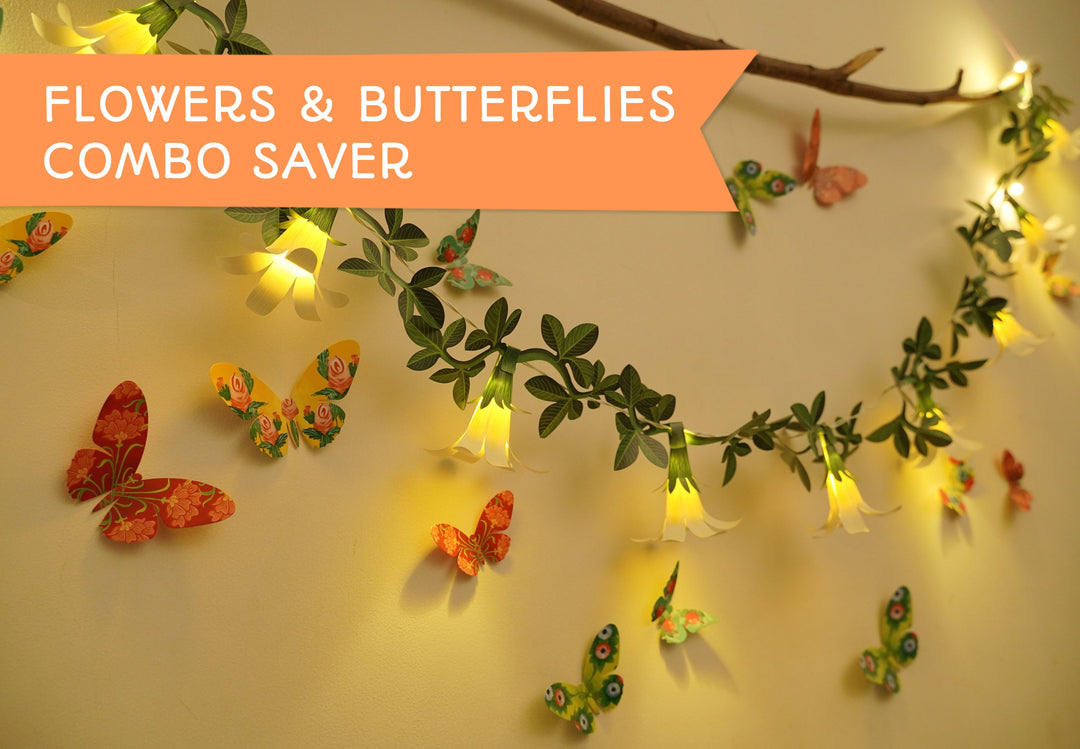 White Paper Flower Fairy Lights & Butterflies Wall Decor Combo
Regular price
Rs. 1,398.00
Sale price
Rs. 999.00
Save Rs. 399.00
/
---
Creating a dreamy corner in your home is easy with this Combo Saver Pack of a string of white paper flower lamp shade with fairy lights, and a set of 24 paper butterflies! This is a great choice for party decor, festive decor, living room or bedroom decor. The lamps transform when lit up, giving a warm bright glow to your space and combined with the butterflies on the wall, they create a magical garden vibe!

Both Electric 2-pin plug and Battery operated options are available. Please select the variant you prefer, from the drop-down menu. 

This product is an easy paper craft activity for adults as well as kids. It comes with fairy lights included and can be put together in just 15-30 minutes. Glue drops are included for assembly, and no cutting is needed; the assembly is using the sticky glue drops included in the package. The butterflies also come with sticky foam squares to attach to any clean surface like walls, windows and mirrors. 
It is a wonderful craft activity to prepare for a happy occasion, like Ganpati festival, Diwali, Eid, Christmas, Birthdays, or Anniversaries. Make happy memories with your loved ones, setting these up together. 

Finished size of each mini flower is 9 cm (length) by 6.5 cm (diameter) or 3.5 inches (length) by 2.5 inches (diameter). The 24 pre-cut paper butterflies come in assorted designs and colours, the average size being 3.5 by 2.5 inches.
Length of each electric fairy light string is approximately 132 inches or 11 feet. Length of battery-operated fairy light is approximately 120 inches or 10 feet. It needs 2 AA cells. 
INCLUDED: 
- 10 White Flower Paper Lamp Shades
- 10 sets of Leaves 
- 10 glue drops
- 1 fairy string lights with 16-20 bulbs. Choose from electric 2-pin lug and battery-operated options (battery not included).
- 24 paper butterflies
- sticky foam squares