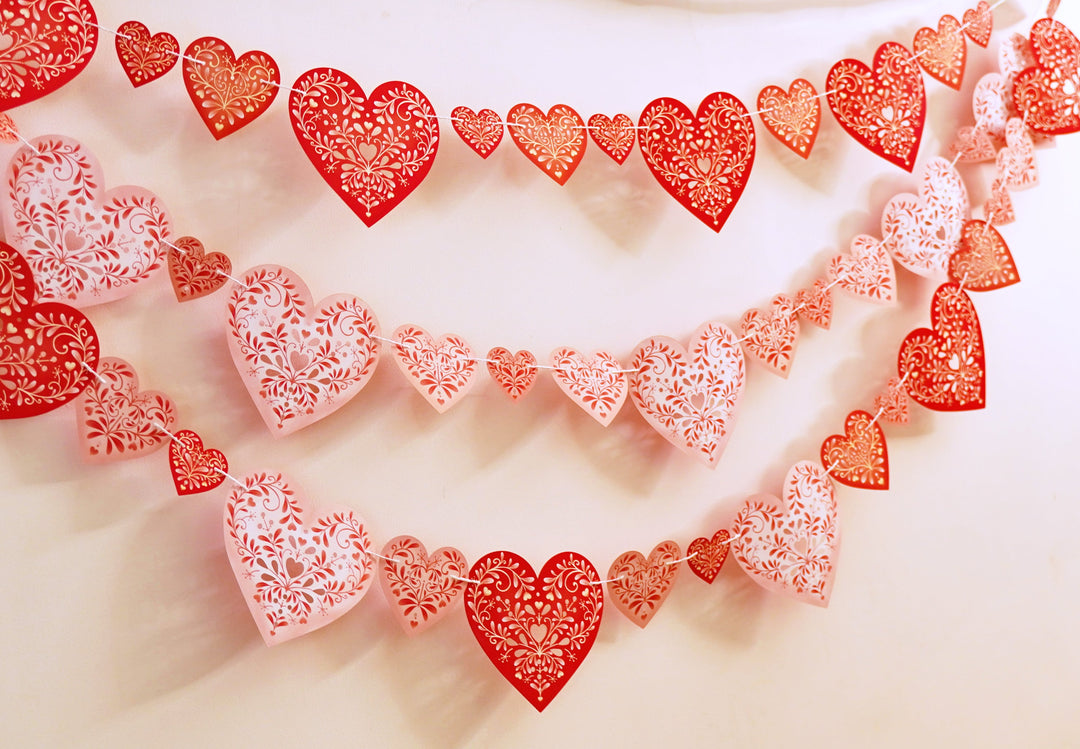 Sweet Hearts Premium Paper Bunting
Regular price
Rs. 499.00
/
---
Creating a romantic mood is easy and fun, with our Sweet Hearts premium bunting! This beautiful high quality bunting is easy to assemble, and versatile in the ways you can use it. You can make all-red, all-pink bunting, or a mixture of red and pink, and string up the hearts horizontally or vertically! The bunting can be used on walls, across rooms, on shelves, windows and doorways. 
This pack makes extra long bunting of approximately 6 metres / 15 feet. It contains 48 pieces of beautiful illustrated hearts in shades of red and pink... along with a generous 23 feet / 7 metres of paper string. You can experiment with how you want to string the hearts together... and you don't need to tie any knots; the paper string holds the hearts in place. 
This product is 100% eco-friendly, biodegradable and no-plastic. You can pack away and reuse the bunting for years! The high-quality of design, paper and string sets it apart from the usual buntings, and will add a touch of elegance and charm to your home decor. Watching these buntings flutter and sway gently in the wind is just a joyful feeling :). 
This bunting set is great to set a Valentine's Day mood at a restaurant, cafe, office or party, too! Or use it for an anniversary or birthday to make your dear ones smile!
INCLUDED: 
- 48 Paper hearts, red on the front side and pink on the reverse. Size of the hearts is 14 cm, 8.4 cm, and 5.3 cm. 
- 7 metres / 23 feet of paper string
---> makes roughly 6 metres, or 15 feet of bunting. You can divide it into 2, 3 or 4 pieces of bunting.