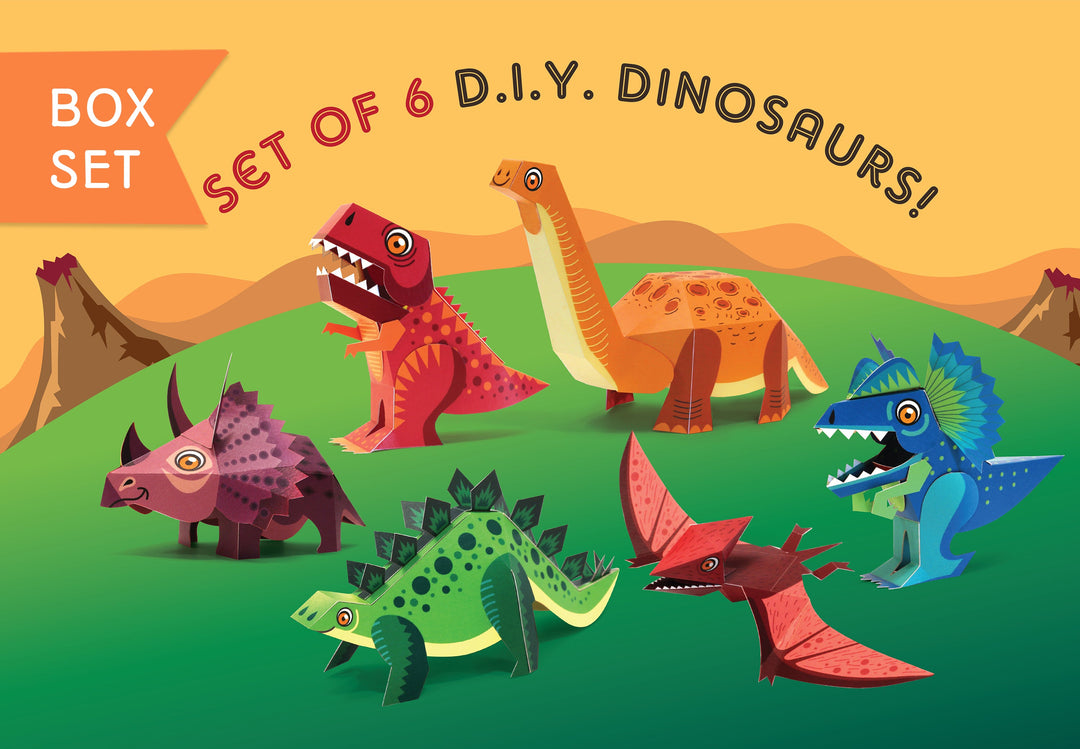 BOX SET of 6 DIY Mini Prehistoric Dinosaurs Paper Craft Kits
Regular price
Rs. 599.00
/
---
Did you know that dinosaurs are the ancestors of today's birds? Dinosaurs roamed every part of the planet for a long era over 150 million years long. Scientists believe that they became extinct due to a major change in the Earth, perhaps caused by a meteor crashing into it, or increased volcanic eruptions. Learn more about dinosaurs and the history of the Earth, and have fun making 6 miniature dinosaur paper models of your own.
DIY Mini Friends 'Prehistoric Wildlife series' is a set of 6 Educational Collectible DIY Paper Toys, from Sky Goodies.
This is a great STEAM craft activity for all ages, to get to know more about our beautiful planet and the fascinating creatures that used to inhabit it. The kit includes friendly facts about the animal and offers hours of creative imaginative play. It makes a thoughtful Christmas present or Birthday gift, and is 100% eco-friendly and biodegradable, using only FSC-certified paper from responsible sources.
Making a dinosaur, versus just reading about one, is a more engaging activity, leading to higher concentration levels and learning. Parents can enjoy free time while kids enjoy this safe craft activity. Much like a 3D puzzle, these papercraft kits help develop the child's problem-solving skills, cognitive skills and create self-confidence. Kids can enjoy making dioramas to house their 6 dinosaurs and be busy for hours. 
Use the kits to spend quality time with children, or relax and make the models by yourself to feel child-like joy again. They make the best party return gifts and birthday party activities. See the other dinosaurs in this series and collect them all! 
These kits are eco-friendly, no plastic (except for the tube of glue) and printed on FSC certified paper from responsible sources. 
INCLUDED:
- 6 pre-printed, pre-cut, pre-creased DIY Kits, with press-out parts, and assembly instructions, to make 6 prehistoric animals: T-rex, Dilophosaurus, Triceratops, Sauropod, Stegosaurus and Pterosaur. 
- Educational facts about the animals
- Fevicol glue
- 3 animal stickers